Hi Everyone!
I had a massage a while back and my masseuse paused in the middle of it and said, "What do you use to moisturize your skin? It is so soft and moisturized!" That statement coming from the mouth of a skincare professional was such a nice compliment. I could not believe that she could even tell the hydration status of my skin just from a massage! I guess it makes sense when I think about it but I was shocked. I was flattered that of the many massages she gives to people, she asked
me
what I used because she wanted to use it too. I almost felt like she should be telling me what to use but I must be doing something right. So, I'm going to share my secret moisturizing potions with you! Hahaha. By the way, it only consists of 3 products that are easily accessible.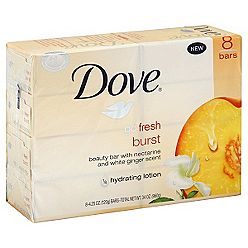 Step 1
The first two products are used in the shower. In the past I used a shower puff with a liquid body wash and could never fathom the idea of using bar soap....ewww! Lo and behold the bar soap has advanced for us Women :) I now use the Dove Go Fresh Burst Beauty Bar (I like "beauty bar" so much better than "soap") and I
LOVE
it! My favorite scent is the Nectarine and White Ginger. It's very tropical and fruity smelling. Each bar contains 1/4 hydrating lotion. It leaves my skin so soft after I shower and I don't feel like I have residue left on my skin from the soap! I really recommend trying the beauty bar but if you find you don't like it or can't get up the nerve to try a bar soap, it does come in a liquid too. (Shown below)
Step 2
Next up: My shaving cream that isn't shaving cream. It's actually Olay Quench liquid body wash. I used to use the Skintimate shaving cream but I'll never go back after using this! A little goes a long way and the bottle is huge, so you'll have it for many shaves! It's very moisturizing, creamy, lathers well and smells really good :)
Olay States
:
"
Cleanse skin with a body wash that provides 24-hour moisturization, helps stop the cycle of dry skin, and reveals radiant, more beautiful skin after just one shower.
• Cleanse skin of dirt, oil and impurities
• Quench dry skin with moisturization
• Contains two times the combined cleansers and moisturizers—and 25% less water—than the top-selling body wash!"
Step 3
Last but not least, we need something to lock in all this wonderful moisture! Olay comes to the rescue once again! I have used this lotion for-ev-er and it's the Olay Quench daily body lotion plus shimmer with cocoa butter.
The key is to use this right after you get out of the shower (I <3 it)!
They have the same one I use without the shimmer if you're not into that but it is so subtle I hardly notice it. Olay makes a scentless lotion too which is ideal to wear with perfume or for those sensitive to fragrance. They also offer several other formulas which include:
*
Ultra Moisture Lotion

Locks in moisture for 24 hours—and now comes without the shimmer
*
Advanced Healing Intensive Lotion
Formula that's clinically proven to help heal dry skin with 24 hour moisture
*
Quench Plus Age Defying Body Lotion
An ideal daily moisturizer for body skin that has begun to show signs of aging—treats dullness, dry and rough texture, uneven elasticity and uneven color
*
Quench Plus Firming Body Lotion
Intense moisturizing formula plumps and lifts surface skin cells for skin that is visibly firmer in as little as three weeks
The particular lotion that I use claims the following:
1 Use: Breathable moisture that lasts all day
1 Week: Skin is noticeably supple, fresh and radiant
1 Bottle: Moisturized skin with a radiant look is one of your best beauty accessories!
Well stated on that last line Olay :) I completely agree!
And there you have it! Our little secret to massage stopping hydrated skin! lol