Hey Girls,
I have a
Juicy Orange
makeup look for you today :) I have this awesome Orange palette from Shiseido that I re~discovered recently...I love re~discovering! So I've been dying to do a really bright but wearable
Orange
look. I got the palette at Sephora a while back and the name is
Fire Sky
. It has two colors, an awesome
bright Orange
and a really pretty glittery White.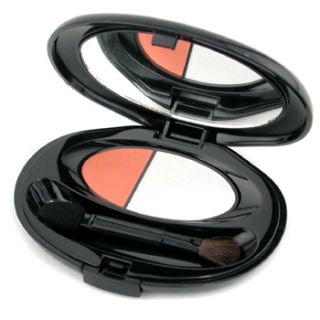 So, here's the look! Hope you girls like it :)
*Moisturize!
*Mary Kay Full~Coverage Foundation in 302 Beige with MAC 180 brush
*Maybelline Mineral Power Concealer in the shade Light under eyes. I apply 3 dots under each eye and gently tap with my middle or ring finger until blended.
*Hourglass Foundation Powder in No.1. I use this to set my concealer under my eyes with a small, tapered brush. Then I take my big fluffy brush and lightly buff the powder into my face.
*LORAC Tantalizer brozer to contour cheeks, nose, jaw, sides of temple and forehead.
*LORAC blush in Soul with MAC 187 brush.
*Smashbox Artificial Light highlighter on cheek bones.
*Maybelline Expert Wear eyebrow pencil in Blonde.
*Benefit Brow Zing powder in Light to set the brow pencil.
*Urban Decay Primer Potion
*With a MAC 239 brush, apply MAC fluidline in Uppity to the lid. If you don't have those, use a small, flat brush and apply a light gold cream shadow or eyeliner.
*Apply Shiseido's Orange in the Fire Sky palette on top of Uppity Fluidline on the lid. Pack the Orange on with the MAC 239 brush. Just use a bright, opaque Orange if you don't have the same palette :)
*With a MAC 219 (any pencil brush), I applied MAC Goldmine shadow in the tear duct and brought it a 1/3 of the way under the eye.
*Apply MAC Brule to brow and blend down into crease
*MAC Symmetry in the crease and blend well
*Apply a glittery black into crease with a pencil brush and then blend it out with a fluffy brush.
*Apply Kat Von D Tattoo eyeliner in Trooper. (Any black eyeliner will do!)
*Line water line with Benefit High Brow or a white eyeliner pencil.
*I applied Stila Major Major Lash Mascara to my top lashes and Covergirl Lash Blast Fusion to the bottom lashes. I wanted the top very dramatic and the bottom more subtle so I opted to used the two different mascaras.
*Take your Orange eyeshadow from earlier and line your bottom lash line with an angled brush. Spritz it with Fix+ to avoid fallout & make the Orange more vivid! The Orange should meet up with the Goldmine (or a yellowish gold) on the inner 1/3 of your bottom lash line.
*Optional~Then I took a Sephora eyeliner in Flashy Brown (bronzy brown color) and lightly lined the outer 1/3 of bottom lash line. You will be lining over the Orange you just put on. It gives just a little more depth.
*LASHES!!! :) Mine are MAC but I don't know the number :( ANY lashes are fabulous!
*Smashbox lip/lid combo concealer stick. Any lip concealer will work, as does a heavy foundation :)
*MAC Subculture Lipliner (Pinky Nude)
*MAC Creme De Femme Lipstick (Rosy Pink with sheen)
*MAC Viva Glam Gaga Lipstick (Optional step)