Hi Girls!
Sorry I haven't had many posts lately :( I was gifted with the flu a few days ago and have not been in a condition to do makeup, or much of anything else for that matter. On the upside, I think I am finally on the road to recovery :) Hopefully I'll have a FOTD post for you girlies tomorrow :) Snotty noses don't make for good photos today, lol. Here are some upcoming posts for you to look forward too in the near future :)
*Valentine makeup
*Green Machine makeup
*Multi~colored tropical eye makeup
*A favorites post
*A twist on Marilyn Monroe's makeup
Now onto the topic of the day....Men's cologne!! To keep with my perfume themed post, I thought I would share some of my favorite men's fragrances with you girls. As well as "top sellers" or colognes that I know from experience that Men love! Valentine's Day is approaching us soon *wink, wink* Cologne is a perfect gift for your Valentine :) I would recommend giving these a smell if you're feeling lost or are not really sure what's hot. From my four years experience working in the fragrance business, I want to offer you a word of advice. I would say about 95% of men don't care what their Lady buys them as long as YOU LIKE IT! :) Us women are the picky ones...not them. So don't be afraid to choose a scent that you like because chances are, if you like it, he's going to love it! Good luck! P.S. These are in no particular order, they all rock!
~YSL:

L'Homme

~ Rich, Alluring, A touch of sweetness, Definite YES! This is a very nice fragrance, not necessarily something he would wear everyday.*Note: There is a newer version of this in a black bottle so don't get the two confused. It's a stronger, intense version of this one. Overall, I do not recommend the black bottle. Stick with the original shown above :)*
~Kenneth Cole:

Reaction

~ I can't tell you how many bottles of this I have sold! It was a top seller in my store for sure and all of us girls working there loved it! It's a light and very sweet cologne but turns more masculine once on the skin. He could wear this everyday. Love this!
~Mont Blanc:

Starwalker

~ I don't know how hard this one will be to find in a department store but you can for sure find it online @ www.perfumania.com or in your nearest Perfumania store. This is another fragrance all of us girls raved about! It's another light, kinda sweet (not nearly as sweet as Reaction), fragrance with a hint of musk. He could wear this everyday.
~Georgio Armani:

Acqua Di Gio

~ I have not come across a Lady that hasn't liked this yet! One of my all time personal favorites! Not heavy and he could wear this every day! No brainer hit!
~Chanel:

Allure Sport

~ It's very important that the "sport" is in there! There is an original called "Allure" and it's good too but not as good as this, in my opinion! This is a rave for me! I know I just said Acqua Di Gio is my favorite but I take that back, lol....this is my #1 favorite Men's cologne ;) Not for everyday use.
~Versace Man:

Eau Fraiche

~ Nice, clean and fresh! Great for everyday!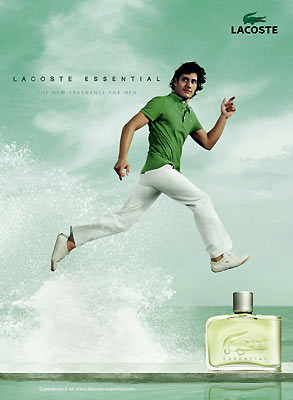 ~Lacoste:

Essential

~ Another fresh, clean, everyday fragrance. A top seller!
~Azzaro:

Chrome

~ This stuff used to literally fly off the shelves! Hot seller! It's really clean and fresh. Great for everyday!
~Givenchy: Play~ As if the Man on the cover isn't enough to make you wanna buy this cologne, then luckily it smells awesome too! LOL. Good job Givenchy! This could go both ways: everyday or special occasion.
Well girls, I hope I didn't leave any crucial ones out! There's NO WAY you can go wrong choosing any of these though. Good luck and just remember, if you like it, he will like it too!